Shopping Cart
Your Cart is Empty
There was an error with PayPal
Click here to try again
Thank you for your business!
You should be receiving an order confirmation from Paypal shortly.
Exit Shopping Cart
Chaparral Village Dental & Orthodontics
27287 Nicolas Road Suite 104, Temecula, CA 92591
The human papillomavirus (HPV) may be to blame for the alarming increase of young adults with oropharyngeal cancer, according to researchers from Henry Ford Hospital in Detroit.
The study, which examined the trends in cancers of the base of the tongue, tonsils, soft palate, and pharynx among people 45 years old and younger, was presented at this week's American Society for Radiation Oncology annual meeting, held September 22-25 in Atlanta. The study revealed an overall 60% increase from 1973 and 2009 in cancers of the base of the tongue, tonsils, soft palate, and pharynx in this demographic. Among Caucasians, there was a 113% increase, while among African-Americans the rate of these cancers declined by 52% during that time period. But compared with Caucasians and other races, the five-year survival rate remains worse for African-Americans.
"The growing incidence in oropharyngeal cancer has been largely attributed to the sexual revolution of the 1960s and 1970s, which led to an increased transmission of high-risk HPV," lead author Farzan Siddiqui, MD, PhD, the director of the head and neck radiation therapy program at Henry Ford in a news release. "We were interested in looking at people born during that time period and incidence of oropharyngeal cancer. Not only were we surprised to find a substantial increase in young adults with cancer of the tonsils and base of tongue, but also a wide deviation among Caucasians and African-Americans with this cancer."
Dr. Siddiqui and his colleagues used the Surveillance Epidemiology and End Results (SEER) database to gather information about adults younger than age 45 who had been diagnosed with invasive squamous cell oropharyngeal cancer between1973 and 2009. Since SEER does not record HPV information, the researchers used tumor grade as a surrogate indicator of HPV infection. Among the study group of more than 1,600 patients, 90% were ages 36 to 44 and the majority, 73%, was Caucasian. During the 36-year period, 50% to 65% of patients underwent surgical resection for their tumors. Patients who had both surgery and radiation therapy had the highest five-year survival rate. "These patients have a favorable prognosis and are likely to live longer while dealing with treatment related side effects that may impact their quality of life," Dr. Siddiqui noted. The five-year survival for the study group was 54%. There was no difference in survival based on gender. African-Americans, however, had significantly poor survival compared with other races. "The predominance of oropharyngeal cancer in this age group suggests either nonsexual modes of HPV transfer at a younger age or a shortened latency period between infection and development of cancer," Dr. Siddiqui said. The American Cancer Society estimates about 36,000 people in the U.S. will get oral cavity and oropharyngeal cancers in 2013, and an estimated 6,850 people will die of these cancers. Recent medical research has shown that HPV exposure and infection increases the risk of oropharyngeal squamous cell cancer independently of tobacco and alcohol use, two other important risk factors for the disease, according to the National Cancer Institute.
From http://www.drbicuspid.com/index.aspx?sec=sup&sub=orc&pag=dis&ItemID=314330&wf=1648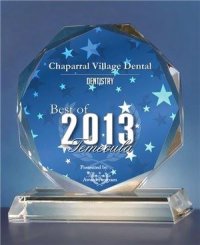 Press Release
FOR IMMEDIATE RELEASE

Chaparral Village Dental Receives 2013 Best of Temecula Award

Temecula Award Program Honors the Achievement
TEMECULA August 29, 2013 -- Chaparral Village Dental has been selected for the 2013 Best of Temecula Award in the Dentistry category by the Temecula Award Program.
Each year, the Temecula Award Program identifies companies that we believe have achieved exceptional marketing success in their local community and business category. These are local companies that enhance the positive image of small business through service to their customers and our community. These exceptional companies help make the Temecula area a great place to live, work and play.

Various sources of information were gathered and analyzed to choose the winners in each category. The 2013 Temecula Award Program focuses on quality, not quantity. Winners are determined based on the information gathered both internally by the Temecula Award Program and data provided by third parties.

About Temecula Award Program
The Temecula Award Program is an annual awards program honoring the achievements and accomplishments of local businesses throughout the Temecula area. Recognition is given to those companies that have shown the ability to use their best practices and implemented programs to generate competitive advantages and long-term value.
The Temecula Award Program was established to recognize the best of local businesses in our community. Our organization works exclusively with local business owners, trade groups, professional associations and other business advertising and marketing groups. Our mission is to recognize the small business community's contributions to the U.S. economy.
SOURCE: Temecula Award Program
CONTACT:
Temecula Award Program
URL: http://www.awardprogram.org
###
Fear of visiting the dentist is a frequent problem in paediatric dentistry. A new study confirms the emotional transmission of dentist fear among family members and analyses the different roles that mothers and fathers might play.
A new study conducted by scientists at the Rey Juan Carlos University of Madrid highlights the important role that parents play in the transmission of dentist fear in their family.
Previous studies had already identified the association between the fear levels of parents and their children, but they never explored the different roles that the father and the mother play in this phenomenon.
Published in the
International Journal of Paediatric Dentistry,
the study analysed 183 children between 7 and 12 years and their parents in the Autonomous Community of Madrid. The results were in line with previous studies, which found that fear levels amongst fathers, mothers and children are interlinked. 
Read more...
People under 45 have been warned to look out for signs of mouth cancer after a surprise rise in cases for this age group.
New figures reveal a growing number of young people in Scotland who neither smoke nor drink – the two main causes of mouth cancer– are being diagnosed with the disease.
Men aged 50 and over who drink and smoked heavily remain most at risk. 
Dental experts said more work is needed to find out the reason for the rise among younger people but believe it could be down to poor diet, lack of sunshine and the spread of certain strains of the human papillomavirus (HPV).
Read more...
     The American Dental Association recently responded to the results of a study published in the American Cancer Society's online journal,Cancer, which associated yearly or more frequent dental X-rays with an increase in the risk of developing meningioma, a type of noncancerous brain tumor.
     The ADA reviewed the study and responded in a news release stating that "results (of the study) rely on the individuals' memories of having dental X-rays taken years earlier."
     According to the organization, studies have shown that the ability to recall information is often imperfect. Therefore, the statement added, the results of studies that use this design can be unreliable because they are affected by what scientists call "recall bias."
     Reiterating its long-standing position, the ADA says dentists should utilize dental X-rays "only when necessary for diagnosis and treatment" and referenced its recommendations, which are provided to help ensure that radiation exposure is "as low as reasonably achievable."
     These recommendations include using a digital X-ray or the fastest available film speed (E or F) as well as abdominal shielding and thyroid collars on all patients.
     According to the ADA, its Council on Scientific Affairs will publish clinical guidance on the use of cone-beam computed tomography in an upcoming issue of The Journal of the American Dental Association.
To see the ADA's full statement, go toada.org/6972.aspx.
Oral Bacterium Linked to Serious Disease
A newly identified bacterium, thought to be a common inhabitant of the oral
cavity, could cause serious disease if it enters the bloodstream, according to a study in the International Journal of Systematic and Evolutionary Microbiology.
Identifying the oral bacterium will allow scientists to examine how it causes
disease and evaluate the risk that it poses, according to a news release.
Researchers at the Institute of Medical Microbiology of the University of Zurich identified the bacterium, which has been named Streptococcus tigurinus after the region of Zurich where it was first recognized. S. tigurinus, which bears a close resemblance to other streptococcus strains that colonize the mouth, was isolated from multiple blood cultures of patients suffering
from endocarditis, meningitis, and spondylodiscitis (inflammation of the spine), the study noted. Bleeding gums provide a possible route of entry for oral bacteria into the bloodstream.
The authors stated that comparative gene sequencing studies showed that the organisms were members of the Streptococcus mitis group but did not correspond to any recognized species. Based on biochemical and molecular analyses, the novel isolates represent a new species.

The similarity of S. tigurinus to other related bacteria has meant that it has existed until now without being identified and its recent identification is clinically important, explained Andrea Zbinden, MD, who led the study.
"Accurate identification of this bacterium is essential to be able to track its
spread. Further research must now be done to understand the strategies S. tigurinus uses to successfully cause disease," Zbinden said in a news release. "This will allow infected patients to be treated quickly and with the right drug."

     U.S. smokers are more than twice as likely as nonsmokers to have oral health problems, but much less likely to visit the dentist.
     Those are the findings of a report released by the U.S. Centers for Disease Control and Prevention that looked at 2008 survey responses from more than 16,000 dentate adults ages 18 through 64.
     Although 35 percent of smokers reported having three or more dental problems – from stained teeth to jaw pain, toothaches, or infected gums – 20 percent said they had not been to a dentist in at least five years, the study found.
     The No. 1 reason smokers said they avoided the dentist, the authors noted, was cost; 56 percent of current smokers, 36 percent of former smokers, and 35 percent of never smokers said they could not afford treatment or did not have insurance.
     Compared to people who never smoked, current smokers are four times more likely to develop oral conditions, such as mouth cancers, gum disease, and cavities.
     The Food and Drug Administration (FDA) has reissued a warning about the use of benzocaine gels or liquids torelieve teething pain for children under age 2.
     Benzocaine is a local anesthetic and can be found in such over-the-counter products as Anbesol, Hurricaine,Orajel, Baby Orajel, and Orabase.
    FDA is warning parents and caregivers that the use of benzocaine gels and liquids for mouth and gum pain canlead to a rare but serious—and sometimes fatal—condition called methemoglobinemia, a disorder in which theamount of oxygen carried through the blood stream is greatly reduced. Adults with heart disease or breathingproblems and smokers are also at greater risk for the disease.
     According to the agency, since it first warned about potential dangers in 2006, FDA has received 29 reports ofbenzocaine gel-related cases of methemoglobinemia. Nineteen of those cases occurredin children, and 15 of the 19 cases occurred in children under 2 years of age, says FDA pharmacist Kellie Taylor, PharmD, MPH, in a news release. FDA remains particularly concerned about the use of these OTC benzocaine productsas parents may have difficulty recognizing the signs and symptoms of Methemoglobinemia.
     According to the FDA's warning, methemoglobinemia caused by benzocaine may require treatment with medications and admission to a hospital right away. If left untreated, or if treatment is delayed, FDA noted, methemoglobinemia may cause permanent injury to the brain and body tissues, and even death.
For moreinformation, visit fda.gov/ForConsumers/ConsumerUpdates/ucm306062.htm
The importance of floss in maintaining dental hygiene goes without saying. In a recent issue of This Old House Magazine, Mark Feirer offered up these 10 uses for floss as a home improvement tool around your house.

Tame your frames. This Old House general contractor Tom Silva likes to hang pictures with it instead of braided wire, which can mar wall paint.
Sew something. To reattach buttons, Eagle scout and avid DIYer Jason Gordon packs a needle with an eye large enough for threading it.
Seal connections. Tom Silva has also used it instead of Teflon tape, to block leaky gaps around parts that screw into place. He just winds a length around the fitting's threads half a dozen turns before screwing it on.
Foil frays. Wrapping rope ends with floss is called whipping and stops unraveling.
Protect bits. Remove the guide and empty spool, and the container itself can cradle a router's trim bit.
Tie down trunks. Ten loops actually hold.
Replace a broken shoelace.
Floss tools. The braided kind works best in crevices between equipment parts.
Repair wood. A length of floss stretched taut, rolled in glue, and then worked into split seams fills fissures with adhesive.
Hang it all. It's a clothesline for bathing suits, and, as TOH reader and dental hygienist Lee Ibes learned, mint green is an invisible tieback for natural garlands.
/